Skip to end of metadata
Go to start of metadata
TIM Professional can be configured to raise an alert when particular events occur whilst the system is running.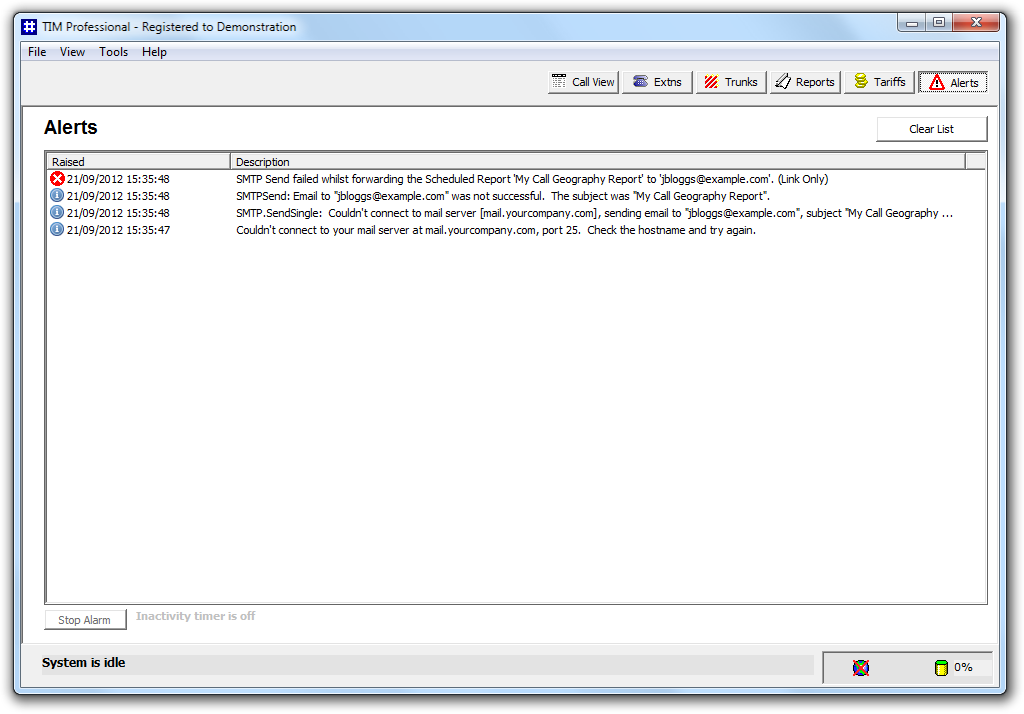 The levels of alert are defined as Urgent/Critical, Warnings and Information. The events that could cause these alerts are described below:
Urgent/ Critical alerts
The system couldn't locate a particular configuration file.

PBX data was received from an unknown source. This could indicate a malicious attempt to falsify data.

Any error during the mathematical processing of call data.

A voluntary system shut-down occurred because an important file could not be accessed due to another process having it already open.

A PBX data template could not be located or is missing.

Any error during file access in processing PBX data.

Any error during the batch pre-process cycle.

Any error accessing the call database.

An invalid or missing tariff table.

Some discarded call data could not be saved for future inspection.

Any non-recoverable general reporting error but not including normal feedback from the reporting engine.

Any error associated with sending an e-mail.

Any error raised whilst administering scheduled reports.

Unauthorised access on the TCP data or web server ports.

Any other web server type error which could indicate a malicious attack using the HTTP protocol.

Any error when generating on-the-fly images such as those used in creating charts for reports.

Problems during the automatic archiving of historical call data.

Any occasion where the complete contents of the call database were removed.

Inactivity timer alerts
Warnings
 Problems decoding specific PBX data, where the format subscribes to a published protocol.
Information
Web page accesses including the IP address of the client requesting the page.
| | |
| --- | --- |
| | The alerts can be saved to a log file on disk or sent as an e-mail notification, as detailed in the Setup section of this documentation. |